Tixio
Modern realtime productivity platform used by World's biggest brands
Product Hunt Lifehack of The Year for 2017 Runner-Up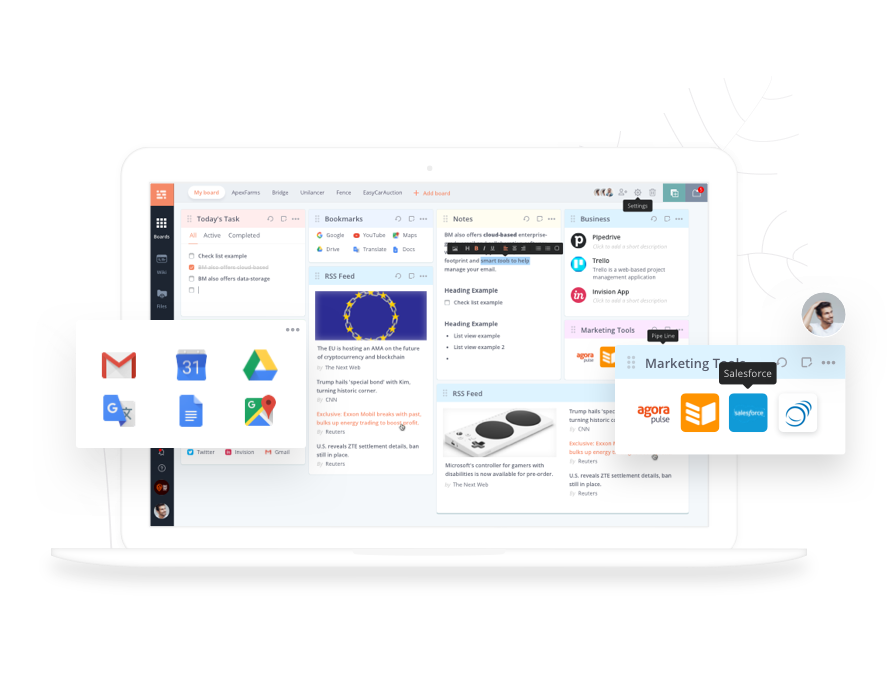 The Client

Services
UX Design, UI Design, Web & Browser Extension Development
---
BACKGROUNDTixio is a tool to organize every one of your web platforms, tools, and sites which people use on a daily basis.
Torstein Gustavsen is an owner of different businesses. After six years, he felt kind of exhausted managing a lot of people and a lot of things to handle his businesses. And then, there was eureka moment, he thought of software that could help him manage communication, online tools, and information conveniently. Soon, Tixio was up and running.
Torstein said he wanted something that can organize all of his favorite software, information, and online tools together, conveniently, and in one place which led to the creation of Tixio. What's even better, these tools, apps, and information can be shared with everyone on the team.
Using this software standardizes the information shared between team members and also synchronizes everything should any new information or tool gets added or updated. Whenever there are new links or tools added, all of the different employees, groups and users of Tixio will have it as well once permissions are granted.
Notable ChallangesDesigning a fun, easy to use way to manage links, notes, wiki entries and team members
Sharing the board with other users and displaying updates real time for all users
To make sure the boards shared with users display real time updates, socket connections and socket events were used after the users on the board are identified.
Wiki section to add and manage various blogs by users and add search functionality
Torstein wanted a space that allows users to add and manage the post but with still proper management so that not anyone can just post anything. To meet his needs, we created an admin control and gave permission to admin to either approve or decline blogs and articles that users wanted to post. Even the updates to previous posts are subject to admin approval before they are posted on the portal.
Managing auto increase and decrease of height and width widget according to the content in the widget.
We went through a rigorous process of complex DOM manipulations and considered them to calculate the appropriate margin and padding for the width and height widgets.

Highlighted screens

SolutionThe ultimate output of the
Teamlace team
Tixio is the one-click solution for all of the requirements Torstein had. It allows him to create boards and share or allow countless numbers of widgets of various categories including bookmarks, checklists, notes, rich notes, and many others. The widgets saves everyone in the team more time.
Another important feature is the Wiki where users can post blogs, add comments, or search for articles. Wiki allows users to create categories, subcategories, and create posts under them. The posts can be liked, or disliked by users. They can also post their comments.